So since I have a couple of blog challanges I would like to do and at this moment I have noting intresting to do. I tought lets start with the 30 day lolita Challange.
Challange of today:
~10 things about your lolita bubble~

I absolutely love the lolita style but I don't wear it that often which is very sad I think. It's a gorgeous style but in my case not that practical for my daily job.

My ultimate favorite lolita style is sweet Lolita but I also want to try gothic lolita.

I don't own many brand clothes since they where not ment to be for plus size people.

I'm not very active on communities, I don't know what the reason is, maybe it's because I don't know them.

Most of the time my lolita outfits are with a pink color in it.

I love decorating cookies in lolita clothes, it makes is so special.

My first brand dress was a Metamorphose Marine Border shirring pinafore dress in monotone. Very old picure but I love it anyway. I'm the one on the right with the black blouse and white hair.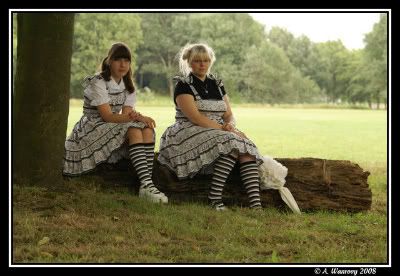 I love shopping in local stores to find something that can work for a lolita outfit.

When I go to meetups I always stay in the bathroom for about 2 hours to do my hair and make up

I wish I had a more standard japanese clothing size so I could buy more lolita clothes with prints, at these days I need to buy everything with shirring in it. Most of the times the cute dresses are without the shirring