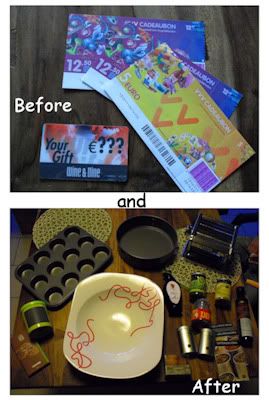 This is my before and after pic of our gift cards and the stuff what I've bought from it. I got the VVV coupons from my old colleagues on my last working day, it was a sad day but yeah the show must go on I guess. The your gift card is from my boyfriend he got this card for 10 years of hard working at his old work.
The only problem we had with these coupons was that we needed to go to the netherlands for spending all the money. Not a huge problem since we live almost in the netherlands so I dicided yesterday that I wanted to do some serieus shopping in Eindhoven. All the shops where open till 9 PM which is really awesome!!!
We went to my favorite shop, allright my favorite shop for the your gift card. But the shop is called Oil & Vinegar, they have an amazing concept where you can taste most of the products that they sell. Like the dipping herbs, all the olive oils with special ingredients, but also very tasty sauces.
There was also an other shop in Eindhoven we've visit, the Cook and Co shop. Also a very cute shop with lost of cooking stuff like pots and pans, but also oils, and baking supplies. Here is where I bought my baking trays and pasta maker, not that I will make my own pasta but the machine if for my crafting hobby's.
A little list of what II've bought, at the cook and Co Shop:
-Pasta Maker
-Muffin tray
-baking tin of 26 cm
At the Oil & Vinegar shop:
-Wild garlic mix *herb mix*
-Mélange de France *herb mix*
-Patatas Bravas *herb mix*
-Dipper Rosa Maria blend *herb mix*
-Dipper Toscany blend *herb mix*
-Pasta dish
-Wasabi Ginger finishing sauce
-Green jar with chalkboard
-Edible appetizer spoons
-Chocolat bar
-Olive oil with rose extract