Last saterday was Castlefest, which is an amazing event in the netherlands

Sadly the weather wasn't that good at some times of the day so we wen't home a bit urlier than planned. Ans we missed the performance of Omnia again, this is the second year that I don't see them
But afterall I had a great great great weekend

I even bought some crafty things, which is not so unusual for me since I love crafting with everthing I can find but buying something on a fantasy event for crafting is not that logical.
There was a stand at CF which was selling konad supplies!!! You know KONAD, like konad konad, the official nail art thing konad

OMG I didn't know what to say when I saw it. That's how happy I was

So I was standing at the stand and looking to all the stuff they where selling and the lady asked me if I knew the concept of it. Hell yeah I know the concept of it

There at CF I bought my first Konad starters kit.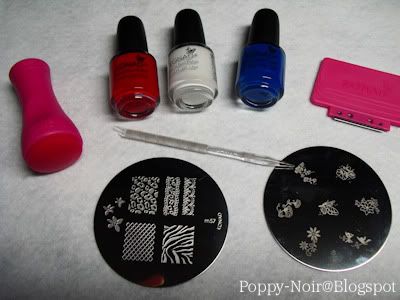 I'm so happy with it! Now I can collect the stamping plates and the special nail pollishes of them. Love love love it
There was like allways a leather stand, they where selling nice pieces of leather for only 10 euro. Since I needed some leather the pants and jacket for Rekiora *my BJD* I bought a nice black and brown one. This week I need no make bouth, because I'm going to a BJD meeting in Antwerpen. And my little big boy needs to come with me, this is going to be his first meetup. Aaaah they grow up so fast xD