So on the 4th of august I went to Castle Fest in Lisse ,The Netherlands. At first I was planning to go in an classic Lolita coord but the weather wasn't going to be that great afterall
So no lolita for me...
First I was a bit disappointed about the fact that is was going to rain and that I coudn't wear my dress. But when you have offwithe pieces in your outfit you don't wanna wear that when it's rainy.
On the last moment I decided to go casual to this edition of Castle Fest, and I was really really happy that I did that. I could sit on the ground and not worrying about the mud stains in my outfit after the rain.
It was such a great event this year, I've laughed a lot and did get a compliment on my hair~ eventhough it was a wig
This is the wig I was wearing, the day before after I did the final restyling. This will be his final look, I'm so happy with it.

It turned out just the way that I wanted, especially with that baseballcap
Offcourse I needed some nails to, I decided to make my own nails this time. It's so much fun to make them, this might be my new hobby
Since I wanted long nails I needed to make extended false nails, wich I was going to wear only that day at the fair. I work at an retirement home and I'm not allowed to wear fake nails or even nail pollish. So clean nails are a must for me. That's why I decided to trying to make fake nails for multiple use. And at the end it worked really well, I removed the nails without damaging the nails and even with minimal damage on my own nails. There now lying in my nail box, waiting for the next event

This year I even made myself an first aid kit for make up or nail crises, it was the first time I would wear such long fake nails so I needed a back up plan for that. My kit was complete but then I found out that I don't have a little mirror

so yeah, having a make up kit without a mirror is a bit silly don't you think?
Everything was packed, from lipbalm to foundation, lash- and nail glue, I even thought about some pain meds for headaches, so we don't need to visit the first aid post at the fair for that.
At 13:00 there was going to be a BJD meetup, since I collect these dolls I was attending at this meet. But strangly enough no one of the people that came brought there dolls with them. Which was really sad and pretty akward, since I wanted to look at some of the dolls and make some pics of them and hello! It's a BJD meetup. You need BJD's for that you know xD Eventhough nobody of the other owners brought there dolls I had fun with them, and with my own dolls. I brought Quana and cupecake with me to the fair. Not for the whole day but just for the meet, after the meet they went back to our car.
Two years in a row, our meet ends up in the rain. Not a pretty situation when you have BJD's, camera's, food, blanckets and such to protect against the rain. Afterall the meet was for me a succes, I saw some of my old friends which I only see at these events. And it was really cozy under our big tree standing in the rain.
Before it began to rain Dreamfairy was killing some gingerbread thingy. I think she was really really really hungry. You better watch out when she's hungy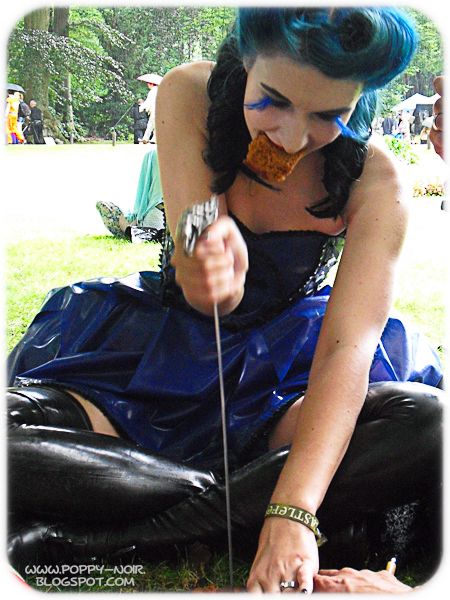 Afterall it was a great day, even with the rain and without the performance of Omnia. But the fact that Omnia didn't played that day didn't ruined my day. I ended up bying 2 new CD's of them for the ride back home

No need for me to miss them
I also bought a brown drivers cap at a steampunk stand which had handmade items! That was so cool, I whish I could make hats like that xD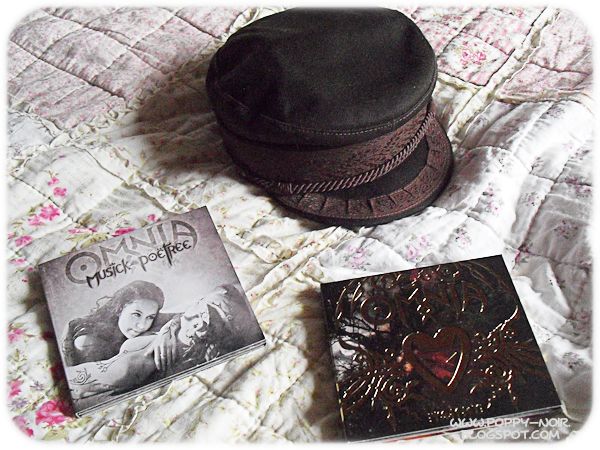 To make this post even longer, I also have an outfit and face pic for you guys